Our children's brains are wonderful, complex things with the tremendous capacity to learn, develop and make connections. It's no secret that young minds absorb and engage the most, and are highly flexible in their abilities to explore and adapt. 
With that in mind, at what age should we start to introduce concepts of Mathematical Thinking to our children? Whether you scour the internet for articles, or comb through early childhood development books, the answer is undoubtedly – from an early age. 
Young Exploring Minds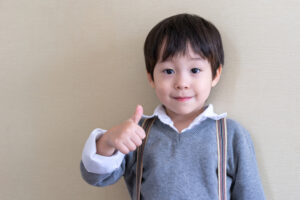 To the general adult population, Math or anything associated with the subject probably invokes some dull, unexciting memories and feelings. Our young and bright however, are just beginning to wake up to the world around them, and they are naturally curious beings who constantly crave discovery and exploration, including figuring out the skills and concepts that learning Math can offer.
Beyond just providing a foundation in numbers, equations and formulas, a good mathematics programme for the young focuses on developing a strong foundation for creative thinking and problem solving. 
Learning Through Play Is The Golden Ticket
Play is a critical part of every child's learning and development. Learning through play builds lifelong learners and provides children the space to be actively engaged and to make sense of their world. Applying age-appropriate knowledge of geometry, patterns, quantity, problem-solving concepts etc through playful experiences encourages important skills like positive social interaction and a sense of competence. 
Creative Math – The Play Based Math Enrichment
Experiential learning supported by a highly hands-on, play-based approach is an excellent method to create a solid foundation in Mathematical Thinking for the little ones. PlayFACTO's Creative Math programme draws on an interactive curriculum co-developed by Korean education experts to build unconscious learning attitudes. This revolves around guided and directed play, free play and games. Discover how PlayFACTO does this here. 
Age Appropriate Experiences 
Teaching young children creative Mathematical Thinking requires introducing them to age-appropriate concepts that allows for the individual child to learn and flourish. 
In PlayFACTO Kids (aged 3 to 6), your child will experience math through stories, games and activities. Expect bespoke take-home manipulatives, colourful workbooks, and trained educators to guide your little ones at every step. 
In PlayFACTO Monthly (aged 7 to 10), your primary school child will experience math through STEAM activities, worksheets, in-class projects. Expect bespoke take-home manipulatives workbooks, and trained educators to guide them throughout.
Students Who ENJOY Mathematics Tend To Perform Well In Their Mathematical Skills
PlayFACTO School Creative Math Enrichment
🥇 Award Winning Programme
👨‍👩‍👦 Free Children's Diagnostic Session
🤸 For Young Mathematicians Aged 3 to 6 years old
Our Creative Math Enrichment is an experiential learning program that helps to nurture young students' mindsets towards Mathematics from an early age.
Supported by our in-house custom made, hands on learning materials, our approach helps young minds develop a strong foundation for Creative Math & problem-solving at an early age.
Winner of the Young Parents Creative Maths Programme Award & Kids World Best Play Based Math School Excellence Award.
Click Here To Whatsapp Us To Start Your Child's Positive Math Journey Today!