"Which After School Programme Is Suitable for My Primary School Child?"
As our student care enrolment is in full swing, this is one common question that we often get. So to help our parents here is a breakdown of 5 major differences.
1. Cost
School-based student care fees hover between $220 to $300 per month. This is to ensure that student care is affordable for families that need additional support. If you are looking for assistance for a student care centre near you, you may proceed to MSF's website to learn more about the support available.
While our premium after school care programmes are priced higher, we are able to offer greater value for money with our unique positive education curriculum, healthier meal options, exciting holiday programmes and even an inviting learning spaces.
2. Meal options
In school-based student care centres, meals come from two sources – the canteen operators or catering companies. Due to limitations, it can be challenging for such centres to bring in food warmers.
For PlayFACTO School's premium student care, we take pride in our meal offerings. Beyond the usual healthy platter institutionalised by the Health Promotion Board, we too take pride in mealtimes – valuing each meal as authentic learning experiences.
We too also have our own central kitchen to ensure the quality of our meals. With less salt, oil and no MSG, parents can rest assured that warm meals are planned with your child's nutritional needs in mind.
3. Lower Teacher-Student Ratio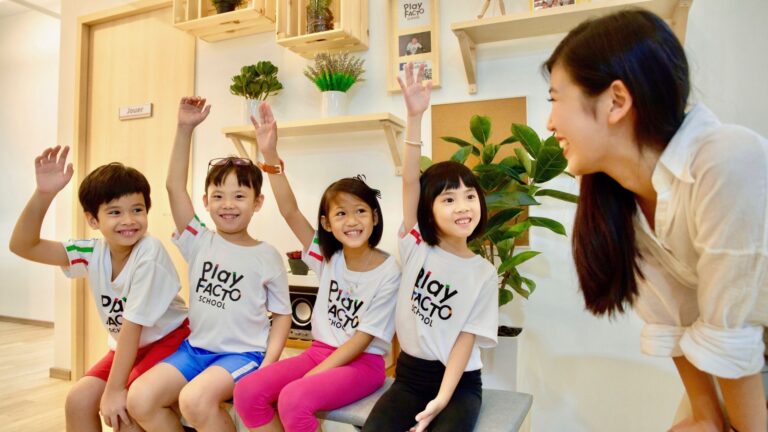 With a lower teacher-student ratio, magical things happen.
For all our student care teachers, each only lookout for 15 children. This compared to 25 children in school-based student care centres allows for our children to benefit from greater attention and academic support.
With a lower teacher to student ratio, we too enjoy the benefit of engaging lessons and holiday programmes.

Do you know that our holiday programme is painstakingly planned by our very own teachers?
4. Curriculum
School-based student care operators take guidance from the Ministry of Education and the school's leadership team. The focus on their programme is mainly homework supervision, spelling and 听写.
Community-based centres have more flexibility in their curriculum. For PlayFACTO School, our students are taught life skills through our positive education curriculum.
By explicitly teaching values and positive habits, our children gain greater confidence in managing their emotions.
5. Environment

School-based student care centres pretty much use the school compound to run their programmes. As such, elements such as lighting, soft touches like pillows and rugs are missing in their after-school care experience.
In fact, one reason why we founded PlayFACTO School Premium Student Care was really to highlight the importance of the environment. When children are placed in natural environments with good lighting, they study better, feel better and even perform better in the long run.
Tea with Rie

Episode 1: Student Care Showdown - Community VS School Based . With Primary 1 registrations in full swing, choosing a student care can be quite a challenge 🤔​ ⁣​. Join us for our Facebook Live session where we explore the differences between school-based 🏫 and community-based 🏡 student care centres.⁣​ ⁣​. ------------------------------------------ 🌸 ABOUT OUR SPEAKER 🌸​ ------------------------------------------ With more than a decade 😲 of experience in the student care industry, Ms Rie has led more than 1000 students and 70 teachers in the course of her career. With experience in both community and school-based centres, she is THE BEST 👍🏼 person to provide clarity and perspective on your next student care of choice 😍​ ​. Join us at our LIVE session tomorrow at 4.30pm!

Posted by PlayFACTO School on Thursday, 25 June 2020